1966


---




"Catholic Unit Fighting Change in Liturgy Renews U.S. Drive. -- Traditionalist Movement to open offices here. -- Priest claims Pope's support. -- The Catholic Traditionalist Movement, opposing 'Protestantizing' of the Roman Church and what it considers to be misinterpretations of Ecumenical Council decrees, has received a second chance, despite the disapproval of leading prelates in the United States -- to wit Baltimore's Cardinal Shehan.... The Rev. Gommar A. De Pauw, founder and once again leader of the movement, and an opponent of what he calls 'Hootenanny Liturgy' and ecclesiastical 'ecumania,' said yesterday that, backed by Rome's Cardinal Ottaviani, he would direct the national organization from a headquarters in New York City.' - THE NEW YORK TIMES, Jan. 6, 1966

"Father De Pauw is a Catholic Traditionalist, a Conservative, a conscientious Roman Catholic priest, a loyal protagonist and champion of Holy Mother the Church, a ranking theologian standing foursquare on the side of Peter! That alone, in today's rebellion-bent and anarchic society, apparently makes a man a marked man--uncommon, un-progressive, un-modern--in short, suspect. Such a man is not deserving of an impartial hearing, nor fairness, nor justice at the hands of the Establishment!--And yet we know that in the end truth must prevail."-- THE WANDERER, Jan. 20, 1966

"Capacity crowds of Catholics, including a sprinkling of priests, are turning out at meeting halls across the country to hear the speeches of a Roman Catholic priest, once a revered member of the theology staff of Mount Saint Mary's, Maryland, one of the main American seminaries, who argues that the old Catholic Church as generations have known and loved it is being killed by the bishops of this country, out to establish an American Catholic Church, going its own way, a new church, more and more cut off from the Romans of the Vatican."-- HERALD TRIBUNE, Feb. 6, 1966

"Enthusiastic cheers and handclasps from a crowd of about 2,200 persons greeted the Rev. Gommar A. De Pauw speaking without notes and with increasing fervor, at the Civic Center, where he painted a picture of dissension within the Catholic Church, a picture which seemed to be enthusiastically welcomed by a majority of those present. -- His speech of more than two hours was interrupted over 70 times by applause. At several points persons rose to their feet in support and afterwards they clambered about the stage seeking his blessing or his handshake." -- THE (Baltimore) SUN, April 18, 1966



---






Gracias, Padre!


---



Contra la hipocresia
y
el abuso
de la autoridad!...


---





LIFE brought you to our attention, dear Padre, and in return, our attention to you brought life back to our souls!...




A group of your
Cuban-American
anti-communist admirers in
MIAMI, FLORIDA





---





Thank you, Bishop Kurz!...
Text of
D E C L A R A T I O N
by
The Most Reverend Blaise S. Kurz, O.F.M., D.D., LL.D.
Titular Bishop of Terenuti Prefect-Apostolic of Yungchow
Witnessing the continuing harassment heaped upon the Reverend Father Gommar A. De Pauw, J.C.D., the priest who is President of the Catholic Traditionalist Movement and also serves as my personal secretary, I am bound in conscience to make the following public declaration:
The statements made by me to the news media on January 17 and 19 are as pertinent today as they were at the time I first made them. I repeat now what I said then: Documents of unquestionable canonical authenticity and validity clearly prove that Father De Pauw is no longer under the jurisdiction of the Cardinal-Archbishop of Baltimore, but as a duly incardinated priest of the diocese of Tivoli-Rome serving as my personal secretary under my direct episcopal authority.
Consequently, the so-called suspension issued by the Cardinal-Archbishop of Baltimore against Father De Pauw is, according to the traditional teachings of our Church, void of any morally or legally binding force.
Despite declarations to the contrary, - so far only issued by persons not juridically competent to deal with this issue, -- Father De Pauw remains today what his credentials signed in Rome last November 15 describe him to be: "a priest commended for his moral conduct, his piety, and his zeal for religion, as well as other priestly gifts."
I also repeat today what I publicly stated last January 17: "I consider any attack on Father De Pauw, at whatever source or with whatever person that attack may originate, as an attack on my personal integrity as a Bishop of the Catholic Church."
I therefore invite the Cardinal-Archbishop of Baltimore to either submit this case to the court judgment of the Roman Rota as provided for by Canon 1557 of the Code of Canon Law, -- and the burden of initiating such court action is the Cardinal's and not Father De Pauw's according to Canon 1748, #1, -- or otherwise, in the spirit, of Canon 2355, publicly and manly admit his error and thus, at least partly, undo the damage already caused to the reputation of a faithful priest of our Church.
Moreover, since it should be clear by now to all sincere Catholics that the aim of the Catholic Traditionalist Movement is simply the FULL implementation of ALL decisions of the recent Ecumenical Council, including the one providing the people with a choice between the old Latin liturgy and the new vernacularized one, I am making mine the message sent to Father De Pauw by the Holy See's official custodian of the true Faith, Alfredo Cardinal Ottaviani, and subsequently on two occasions solemnized by the Holy Father's own blessing: "My blessings and good wishes to you, Father De Pauw, and to the men and women for whom you speak."
Finally, in the full realization of my responsibility as a Bishop of the One, Holy, Catholic, and Apostolic Church, solemnly expressed in the Second Vatican Council's teaching on episcopal collegiality under the supremacy of Our Holy Father Pope Paul VI, I recommend the Catholic Traditionalist Movement to all Catholics willing to defend our Church.
While the active leadership of the Catholic Traditionalist Movement will remain with Father De Pauw, I have today accepted the position offered me by that Movement's Board of Directors, and will henceforth publicly function as Bishop-Moderator of the Catholic Traditionalist Movement.

New York City, May 22, 1966.


---
In tribute to a courageous and honest bishop,
BISHOP BLAISE KURZ,
the best friend Father De Pauw ever had...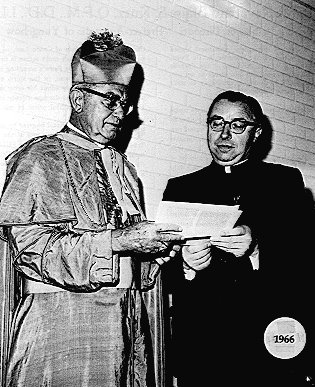 NEWARK, NEW JERSEY - July 17, 1966 - Bishop Blaise S. Kurz, O.F.M., left, and Rev. Gommar A. De Pauw of the Catholic Traditionalist Movement confer before lecturing at Hotel Robert Treat. (Photo Newark Evening News)
---


"Rev. Dr. Gommar A. De Pauw, President of the Catholic Traditionalist Movement, spoke of the aims of his movement before a record-breaking crowd...The traditionalist movement grew out of a dissatisfaction of the laity for the changes forced upon them by some American bishops,..but until the theologian of Emmitsburg's Mount St. Mary's was approached, none would stick his neck out...Fr. De Pauw needs no editorial support from this or any other newspaper. His cause speaks for itself. His organization is an educational one, and as such, deserves to be heard on an unbiased basis, and for educational reasons." -- THE (Cumberland, Maryland) CITIZEN, April 24, 1966

"Gommar A. De Pauw is a contrast to most of the other dissident priests. He is a conservative, leader of the Catholic Traditionalist Movement, who acidly claims that the Catholic Church is being undermined by the same forces of materialism, atheism, Communism and modernism which have been undermining the best Protestant denominations." -- LIFE, June 24, 1966

"Father De Pauw,...a brilliant speaker and manager of audiences...a spellbinder with professional technique, organizing his speech with the perfection and timing of a symphony." - WASHINGTON POST, July 17, 1966

"The closest thing to a public dissenter this country has produced since Vatican Council II is Father Gommar De Pauw, an ultraconservative Maryland priest,...a Belgian-born peppery professor of canon law, who, unperturbed, founded the Catholic Traditionalist Movement to counter extremists bent, as he believes, on 'Protestantizing' the Catholic Church." -- NEWSWEEK, Dec. 26, 1966

"The fiery leader of the Catholic Traditionalist Movement, Rev. Dr. Gommar A. De Pauw, J.C.D., of New York City, who has received worldwide attention for his resistance, paid his first visit to Rhode Island, and charged that Catholics in the United States are gradually becoming an American Catholic Church rather than the Roman Catholic Church in the United States." -- THE (Providence) BULLETIN, Jan. 29, 1967

"In the United States a Belgian-born theologian and Church lawyer, the Rev. Gommar A. De Pauw, founded the Catholic Traditionalist Movement in the mid-1960s. It now claims about 10,000 active 'fighters' and by admittedly loose estimates, an audience of up to 15 million Catholics who are traditionally oriented in their faith." - U.S. NEWS & WORLD REPORT, July 25, 1977